Digital Oscilloscope DS-8000 Series
High resolution oscilloscope
Large screen 15.6-inchFULL HD
Intuitive operation Touch panel & button/knob & mouse
Up to 8 CH
High resolution 12 bits (equivalent to 16 bits in high resolution mode)
Maximum memory length of 120M points as standard
High-speed data transfer 15 times faster than before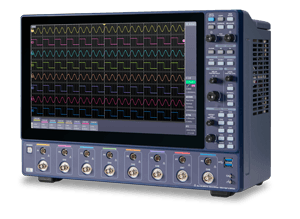 The DS-8000 Series accurately displays the measured signal with a maximum frequency bandwidth of 1GHz, a maximum number of channels of 8 CH, a sampling speed of 5 GS/s (when the channels are coupled), and a vertical resolution of 12 bits. High-speed start-up up to 4 times faster than competitor products and a 15.6-inch FULL HD touch panel greatly improves measurement efficiency.
General Specifications
Maximum frequency

: Up to 1GHz

Memory length

: Up to 120M points

Number of analog channels

: 4 or 8

Vertical resolution

: 12-bit
Application examples
Power device switching (ON voltage, etc.) observation
Lightning surge waveform observation
Waveform observation of voltage, current, sensing and ECU signals of automotive inverters
Behavior at the time of power-on of the device, confirmation of the stability of the power converter, observation of changes in waveform distortion such as encoder pulses
Large screen and intuitive operation
You can change the settings by sensory operation just by touching and comfortable operation with buttons and knobs. The high visibility Full HD display shows every detail of the waveform.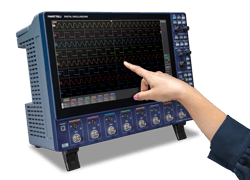 High-speed start-up
After the power is turned on, the device starts up quickly (about 30 seconds, 4x faster than competitor products), so you can start measuring immediately when you want to use the device.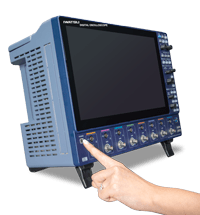 High resolution & low noise
Waveform display is possible by using ADC with high resolution of 12 bits at all times (up to 16 bits in high resolution mode).
Ideal for automotive, component, and semiconductor design, production, and quality assurance departments.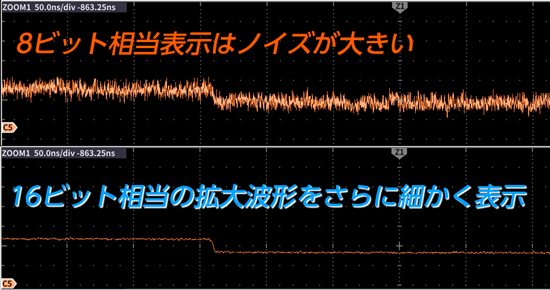 Broadband & up to 8 channels
Supports a wide range of applications with a maximum frequency band of 1GHz and a maximum of 8 channels.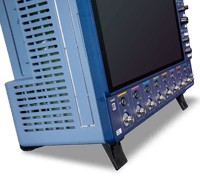 DS-8000 Main Specifications
Model
DS-8108
DS-8104
Number of analog channels
8
4
Frequency bandwidth
1GHz
Input impedance
50Ω±1.5% / 1MΩ±1%//16pF±2pF
Input coupling
GND, DC1MΩ, AC1MΩ, 50Ω
Input sensitivity
1mV~1V/div(50Ω, 1-2-5 sequence)
1mV~10V/div(1MΩ, 1-2-5 sequence)
ADC resolution
Real time: 12 bits, high resolution mode: up to 16 bits
Horizontal axis sweep range
200ps/div~50s/div
Timebase accuracy
10ppm or less
Acquisition memory length
60M points (when all channels are used)/120M points (when channels are coupled)
Sample rate
5GS/s @12 bits (when channels are coupled)
2.5GS/s @12 bits (when all channels are used)
Trigger
Edge, Edge OR, Edge Alternate, Pulse Width, Period, Pattern,
Serial Trigger (UART, I2C, SPI)
Trigger coupling
AC, DC, HF Rej, LF Rej, Noise Rej
External trigger
(Optional DS-601)
Input resistance: Approx. 10kΩ/operating input range:0~+5v
Trigger threshold: +0.5V, +1.2V/operating frequency: 100MHz max (at external 50Ω termination)
Calculation processing
Addition, Subtraction, Multiplication, Division, Integration, Differentiation, Absolute Value, Inversion, FFT
Automatic measurement
Voltage [12 items]
Maximum, Minimum, Peak-Peak, RMS Value, Cyclic RMS Value, Average Value, Cyclic Average Value, Top, Base, Top-Base, + Overshoot, - Overshoot
Time [12 items]
Transition Time, Rising (20-80%), Rising and Falling (80-20%), Rising (10-90%), Rising and Falling (90-10%), Frequency, Period, Number of Positive Pulses, Number of Negative Pulses, Positive Pulse Width, Negative Pulse Width, Duty Ratio
Other [9 items]
Differentiation, Integration, Integration (Absolute Value), Integration (Positive Value), Integration (Negative Value), Skew (%), Skew (Level), Phase (%), Phase (Level)
Frequency counter
Number of display digits: 6 digits, frequency bandwidth: 4Hz to 1GHz (the upper limit is the frequency bandwidth of each model)
Measurement accuracy:10ppm
Display
15.6 inch, Full-HD (1920 × 1080), capacitive touchscreen
Remote interface
Ethernet(10/100/1000Base-T), USB3.0
Power supply
100~240V AC, 50/60Hz
Power consumption
360VA(325W)
External dimensions
445 (W) x 324.6 (H) x 200 (D) mm
Weight
Approx. 11.5kg
Accessories
Panel cover, power cord, 4 passive probes, instruction manual (CD), accessory storage case
Option
DS-821 switching analysis software
DS-601 external trigger input function
Model
DS-8058
DS-8054
Number of analog channels
8
4
Frequency bandwidth
500MHz
Input impedance
50Ω±1.5% / 1MΩ±1%//16pF±2pF
Input coupling
GND, DC1MΩ, AC1MΩ, 50Ω
Input sensitivity
1mV~1V/div(50Ω, 1-2-5 sequence)
1mV~10V/div(1MΩ, 1-2-5 sequence)
ADC resolution
Real time: 12 bits, high resolution mode: up to 16 bits
Horizontal axis sweep range
500ps/div~50s/div
Timebase accuracy
10ppm or less
Acquisition memory length
60M points (when all channels are used)/120M points (when channels are coupled)
Sample rate
5GS/s @12 bits (when channels are coupled)
2.5GS/s @12 bits (when all channels are used)
Trigger
Edge, Edge OR, Edge Alternate, Pulse Width, Period, Pattern,
Serial Trigger (UART, I2C, SPI)
Trigger coupling
AC, DC, HF Rej, LF Rej, Noise Rej
External trigger
(Optional DS-601)
Input resistance: Approx. 10kΩ/operating input range:0~+5v
Trigger threshold: +0.5V, +1.2V/operating frequency: 100MHz max (at external 50Ω termination)
Calculation processing
Addition, Subtraction, Multiplication, Division, Integration, Differentiation, Absolute Value, Inversion, FFT
Automatic measurement
Voltage [12 items]
Maximum, Minimum, Peak-Peak, RMS Value, Cyclic RMS Value, Average Value, Cyclic Average Value, Top, Base, Top-Base, + Overshoot, - Overshoot
Time [12 items]
Transition Time, Rising (20-80%), Rising and Falling (80-20%), Rising (10-90%), Rising and Falling (90-10%), Frequency, Period, Number of Positive Pulses, Number of Negative Pulses, Positive Pulse Width, Negative Pulse Width, Duty Ratio
Other [9 items]
Differentiation, Integration, Integration (Absolute Value), Integration (Positive Value), Integration (Negative Value), Skew (%), Skew (Level), Phase (%), Phase (Level)
Frequency counter
Number of display digits: 6 digits, frequency bandwidth: 4Hz to 1GHz (the upper limit is the frequency bandwidth of each model)
Measurement accuracy:10ppm
Display
15.6 inch, Full-HD (1920 × 1080), capacitive touchscreen
Remote interface
Ethernet(10/100/1000Base-T), USB3.0
Power supply
100~240V AC, 50/60Hz
Power consumption
360VA(325W)
External dimensions
445 (W) x 324.6 (H) x 200 (D) mm
Weight
Approx. 11.5kg
Accessories
Panel cover, power cord, 4 passive probes, instruction manual (CD), accessory storage case
Option
DS-821 switching analysis software
DS-601 external trigger input function
Model
DS-8038
DS-8034
Number of analog channels
8
4
Frequency bandwidth
350MHz
Input impedance
50Ω±1.5% / 1MΩ±1%//16pF±2pF
Input coupling
GND, DC1MΩ, AC1MΩ, 50Ω
Input sensitivity
1mV~1V/div(50Ω, 1-2-5 sequence)
1mV~10V/div(1MΩ, 1-2-5 sequence)
ADC resolution
Real time: 12 bits, high resolution mode: up to 16 bits
Horizontal axis sweep range
500ps/div~50s/div
Timebase accuracy
10ppm or less
Acquisition memory length
60M points (when all channels are used)/120M points (when channels are coupled)
Sample rate
5GS/s @12 bits (when channels are coupled)
2.5GS/s @12 bits (when all channels are used)
Trigger
Edge, Edge OR, Edge Alternate, Pulse Width, Period, Pattern,
Serial Trigger (UART, I2C, SPI)
Trigger coupling
AC, DC, HF Rej, LF Rej, Noise Rej
External trigger
(Optional DS-601)
Input resistance: Approx. 10kΩ/operating input range:0~+5v
Trigger threshold: +0.5V, +1.2V/operating frequency: 100MHz max (at external 50Ω termination)
Calculation processing
Addition, Subtraction, Multiplication, Division, Integration, Differentiation, Absolute Value, Inversion, FFT
Automatic measurement
Voltage [12 items]
Maximum, Minimum, Peak-Peak, RMS Value, Cyclic RMS Value, Average Value, Cyclic Average Value, Top, Base, Top-Base, + Overshoot, - Overshoot
Time [12 items]
Transition Time, Rising (20-80%), Rising and Falling (80-20%), Rising (10-90%), Rising and Falling (90-10%), Frequency, Period, Number of Positive Pulses, Number of Negative Pulses, Positive Pulse Width, Negative Pulse Width, Duty Ratio
Other [9 items]
Differentiation, Integration, Integration (Absolute Value), Integration (Positive Value), Integration (Negative Value), Skew (%), Skew (Level), Phase (%), Phase (Level)
Frequency counter
Number of display digits: 6 digits, frequency bandwidth: 4Hz to 1GHz (the upper limit is the frequency bandwidth of each model)
Measurement accuracy:10ppm
Display
15.6 inch, Full-HD (1920 × 1080), capacitive touchscreen
Remote interface
Ethernet(10/100/1000Base-T), USB3.0
Power supply
100~240V AC, 50/60Hz
Power consumption
360VA(325W)
External dimensions
445 (W) x 324.6 (H) x 200 (D) mm
Weight
Approx. 11.5kg
Accessories
Panel cover, power cord, 4 passive probes, instruction manual (CD), accessory storage case
Option
DS-821 switching analysis software
DS-601 external trigger input function