Universal Counter SC-7205A
Easy operations with single key strokes for each action. High cost-performance counter with three different variations!
The universal counter SC-7205A features frequency, cycle, time interval, pulse width, phase, frequency ratio, duty ratio, cumulative count, and peak voltage measurements for easy, versatile measurement. As a basic piece of measurement equipment for development work and technical education, they are also ideal for introduction to production and inspection lines.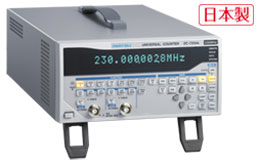 Easy operations with single key strokes for each action.
Easy to see fluorescent display tube. Detailed information is shown on a 5 × 7-dot display. * The full spelling display guide strongly supports operations.
Auto-trigger function that does not require setting the trigger level. Manual settings are also possible.
Comparator and statistical operation function make it easy to improve the efficiency of line inspection work.
Unit conversion (rpm, speed, etc.) is possible using the scaling operation function.
It is easy to check the waveform amplitude by measuring the peak voltage of the input signal.
Streamline routine inspection work by saving/recalling panel setup.
RS-232 interface for full remote control 200 data/sec real-time transfer possible * GPIB interface SC-701 (factory option)
Highly expandable options Comparator output with digital I/O (SC-702). External trigger input. * A generous output of 150mA and 50V that can be used as it is for line monitoring equipment.
Measurement function (selection guide)
Measurement function
Gate
Equipped model
Internal
EXT-B
MANUAL
SGL
SC-7207H
SC-7206H
SC-7205A
FREQ-A
Frequency
○
○
×
○
○
○
○
FREQ-B
Frequency
○
×
×
○
○
×
○
FREQ-LINE
Frequency
△
×
×
×
○
×
○
FREQ-C
Frequency
○
○
×
×
○
○
×
PERI-A
Period
○
○
×
○
○
○
○
DUTY-A
Duty
○
×
×
○
○
○
○
P.W-A
Pulse width
○
×
×
○
○
○
○
TOT-A
Addition counting
○
○
○
×
○
○
○
T.INT A-B
Interval
○
×
×
○
○
×
○
FREQ A/B
Frequency ratio
○
×
×
×
○
×
○
PHAS A-B
Phase
○
×
×
○
○
×
○
Peak voltage A
-
-
-
-
○
○
○
Peak voltage B
-
-
-
-
○
×
○
○… Selectable × … Disabled △… Disabled for 1ms, 10ms