CS-8000Series
With a variety of unit combinations, it is ideal for next-generation semiconductor measurement, supporting characterization in all processes.
It is equipped with an SMU with a maximum voltage of 5kV and a maximum current of 2kA, has pulse output, gate pattern, and microcurrent measurement functions, and strongly supports design evaluation of wide-gap semiconductors such as SiC and GaN.
Click here for more information.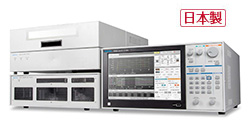 CS-3000, 5000, 10000Series
Handle leakage current and high current in one unit. Automatic measurements are also possible
Measurement of characteristics of various semiconductors such as IGBTs, MOSFETs, transistors, diodes, etc. from small capacity to large capacity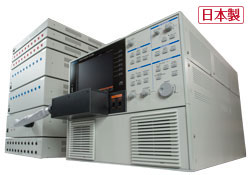 By automating the measurement with "Semiconductor Parameter Measurement Software CS-810," it is possible to record as evidence and make judgments.
Advantages of adoption
Make accurate and reliable measurements according to the measurement procedure
Measurement content is also saved as evidence
Auto-judgment is also possible
Control of optional products can also be automated (e.g. temperature control of hot plate)
There is a definite benefit. Click here for more information.
Advanced features for ease of use
The wiring status can be checked with graphics"CONFIGURATION"
You can avoid misconnections when measuring your device.
Wave mode where the applied voltage and current can be confirmed by the waveform
You can specify the pulse width and measurement point (timing) while checking the waveform (current, voltage) applied to the device on the time axis like an oscilloscope.
By checking the waveform, you can determine the appropriate pulse width and measurement timing.
There are no waveform changes due to probing as with an oscilloscope, and abnormal signals can be checked.
It is easy to check for thermal abnormalities such as oscillation due to heat generation.
Fully automated with high PC compatibility
With the remote control of the main unit, the software that enables various automatic measurements performs stress tests that were difficult with conventional curve tracers, and simultaneously controls hot plates and thermostatic chambers to fully automate the temperature characteristics of multiple elements.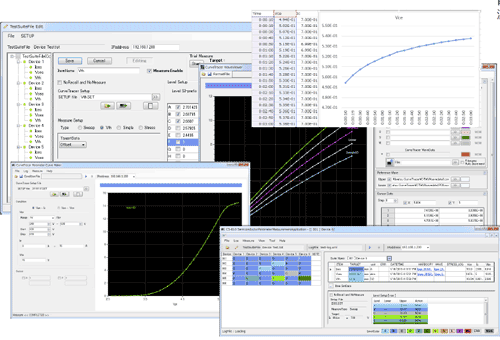 USB memory device
The image can be TIFF, BMP, or PNG, the background can be black or white, and color/monochrome can be selected. Waveform data can be stored in text and binary at the same time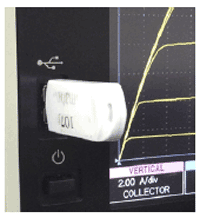 Remote control tool (free)
When a USB memory device cannot be used for security reasons, the remote control tool installed on the PC provides a solution.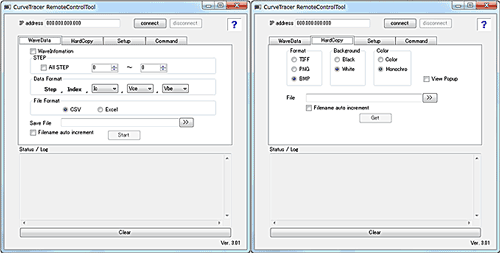 Ethernet standard equipment (rear of main unit)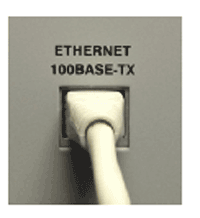 Function Introduction
SWEEP
The number of points is variable. It can be set according to the sweep speed and resolution. The sweep direction can be changed depending on the application. In addition, since the custom sweep can sweep only the necessary part, it achieves high-speed high-resolution measurement, especially when automatic measurement is performed.
Vth/hFE automatic search function (option CS-800)
Traditionally, this measurement requires complicated operations, but with this product it can be automatically measured based on the setting conditions.
Limit/Sweep function (option CS-800)
This function applies the limit of normal SWEEP measurement by current and voltage. It can be used to limit current and voltage values applied to the device under measurement for protection, as well as for stopping SWEEP at desired values.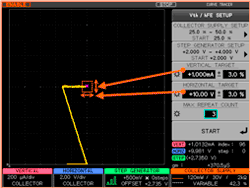 Pursuit of ease of use Basic operation uses independent knobs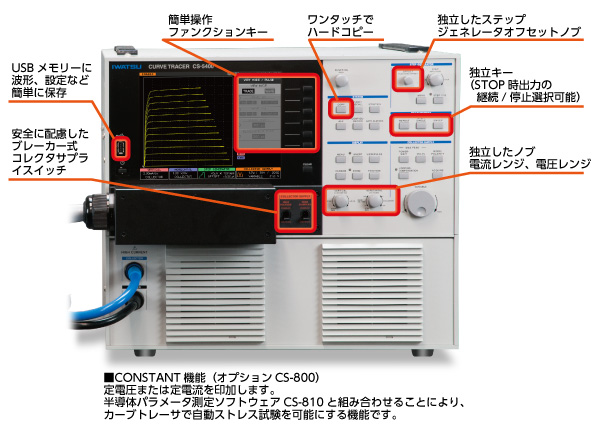 Product name
Order number
Measurement items


Semiconductor Curve Tracer
CS-3100
Semiconductor Curve Tracer
CS-3200 / 3300
CS-3100
Not equipped with large current mode
CS-3200
Maximum peak voltage:3000V(High voltage mode)
 Maximum peak current:1000A(CS-3300 large current mode)
CS-3300

Semiconductor Curve Tracer
CS-5000 Series
CS-5100
Not equipped with large current mode
CS-5200
Maximum peak voltage: 5000V (high voltage mode)
Maximum peak current: 1500A (CS-5400 high current mode)
CS-5300
CS-5400

Semiconductor Curve Tracer
"Power Curve Tracer"
CS-10000Series
Made-to-order product
CS-10400
Maximum peak voltage: 15kV (high voltage mode)
Maximum peak current: 8000A (CS-10800/12800/15800 high current mode)
CS-10800
CS-12800
CS-15800