What is an Arbitrary Signal Generator/Function Generator?
An arbitrary signal generator/function generator is an electronic measurement device that can output signals with any frequency, amplitude, and waveform. In electronic measurement, it is used to operate the circuit to be measured. In addition, by applying known noise to the output signal and confirming the response of the measured device, it is possible to test the durability when stress exceeds the normal performance range. IWATSU's arbitrary signal generator supports a variety of applications such as research, development, and manufacturing.
Model name
Analog
Number of channels
Sample
Rate
Frequency
Bandwidth
Output voltage
(50Ω)
Record length
(Points)
Digital
Output
Serial
Pattern
SG-4200 Series
2ch
200
MS/s
25MHz /
60MHz
10
Vp-p
~
16Mpt
-
-
Function Generator
Arbitrary Signal Generator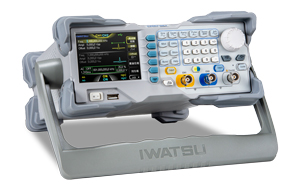 Frequency
Maximum frequency bandwidth 60MHz
Output voltage
~24Vp-p(High-Z)
Number of analog channels
2ch
Record length
~16Mpt
Built-in waveforms
A total of 160 waveforms are preset for each field, and the desired waveform can be easily output.
Harmonic output function
Harmonic applications are also supported.