Digital Oscilloscope "ViewGo II" DS-5600A Series
Extended basic functionality,
making it easier to use
Bandwidth100~500MHz
2 GS/s 4/2 Channels Max
Up to 5M points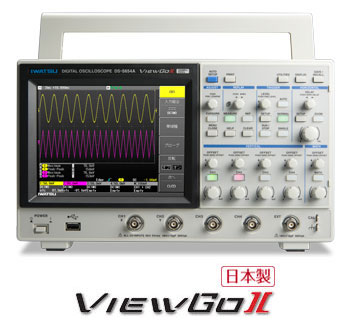 DS-5600A Series New Functions
DS-5600A Series All models 50 Ohm input compatible
Supports a wide variety of probes.

AUX OUT output terminal is equipped as standard.
In addition to the effective trigger signal output, the Pass/Fail determination function can output when the result becomes a Pass or Fail.

High Resolution
When measured at a sampling speed lower than the highest sampling speed, the data captured in the highest sampling can be averaged to capture waveforms, reduce random noise and increase vertical axis resolution to up to 12 bits equivalent equally. * It can also be used with single-shot signals that are not repeating signals.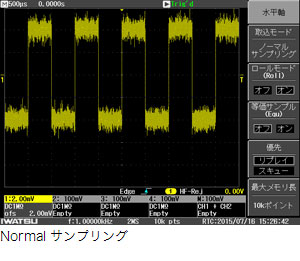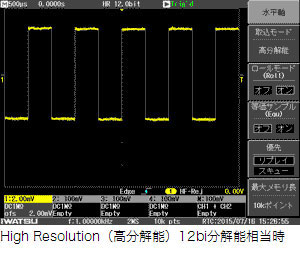 Displays the current vertical resolution during the high-resolution operation process.

Expanded average count
The average setting count was expanded from 256 times to 65536 times (maximum). This can effectively reduce non-periodic random signals from repeated measured signals.
When the amplitude ratio between the signal (triangular wave: 50Hz) and the noise (random) is 1:1,
the example on the right is when measured at a sampling speed of 200kS/s and a memory length of 10k points.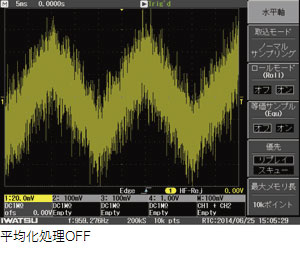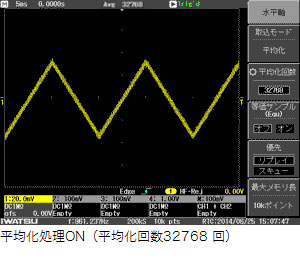 Displays the number of processes during the averaging operation.
Auto setup disable toggle function
Prevents the panel settings from being updated, even if the AUTO SET button is pressed by mistake.